Hello again everyone. Today I wanted to talk about a brand that I have so much time for and I feel like it should get 100% more attention than it gets now.
About a year ago I gave myself a nudge to start taking better care of my skin for one simple reason: this is going to be on my body for the rest of my life so Id better get my skates on.
I have been lucky enough to never really get break outs on my face. When i was maybe 11-13 I would get small ones on my forehead but when I would put makeup on they were hidden. I did get back-acne and if I'm honest it's still kind of there but not as bad as it used to be. During that time of the month i do tend to get blackheads around my mouth but i have since learned my lesson when it comes to picking them!
Although Garnier is a popular brand I think that a lot of people walk past it in the store looking for something better quality based on name and price. Garnier is quite inexpensive but I love it so much.
All of my skincare is Garnier and I would really recommend it to teenagers because a)its cheap and b) it does exactly what it says on the tin.
 Skincare
My favourite skin care product from Garnier Softening cleansing lotion for dry skin 'goodbye dry' . This product has changed the mood of my skin.I use it to take off my makeup, I just pop some into my hands and rub it all over my face and take all my makeup off. I love it so much because it isn't thick and gloopy like other cleansers I have tried. I love my skin products to be water based you could say and I especially love it when they sink in fast but you can still tell that you have put some kind of product on your skin. You feel me? Now this is the only cleanser that I have tried by the brand but in my opinion I am so happy with this I don't ever want to move away from this cleanser i literally LOVE it so much!
I definitely paid less that 5€ for this and I have with about 2-3 months. I will have to buy a new one this month but for 5€ It is worth the price. The bottle isn't complicated and it smells amazing!
Next is moisturizer. I have tried a few garnier moisturizers and I love them all again because they are quick to sink in but they are not thick. Currently I am using the Skin Naturals Soft Essentials 24h Hydrating Day Care cream and ugh I am addicted to it. If I don't have makeup on I could put this on 2-3 times in a day I love it so much.
I also tried the Moisture Match Mattifying Fresh Cream and that was also amazing. I had to switch to the goodbye dry because my face started to flake and get dry around my t zone which is strange but thats stress for you it controls ya skin unfortunately! When my skin does clear up again I am certainly going back to the moisture match.
Again both of these moisturizer cost under 5€. For teenagers with skin issues I would definitely recommend trying these moisturizer because they are so amazing.
A major benefit for me with these moisturizers are that they dry in fast so you can wash and dry your face in the morning give it 5 minutes to sink in and you can start your makeup which is amazing for work/school/college when you don't have the time to be sitting around for 10 minutes waiting until your face doesn't feel greasy. Because they sink in so fast i think it kind of pushes us to take better care of our skin because we literally ave no excuse 1 minute in the morning to wash dry and moisturize our face in the morning? Nobody can say that we don't have that kind of time.Like I said above.we will live in the same skin for our whole lives!
Body
On the note of moisturizer I wanted to mention a body moisturizer. Seeing as it is summer we all want to look tan especially those of us that don't tan so well. I have been using the Summer Body Moisturizing Lotion with apricot extract and I have been loving it. Last summer I was using the dove one but it gave me weird pimples on my shoulders so I don't want that again this year. This garner one firstly it smells amazing but it gradually builds up your tan instead of you being orange around your wrists and ankles and I am going to use this for the entire summer and maybe even into the winter.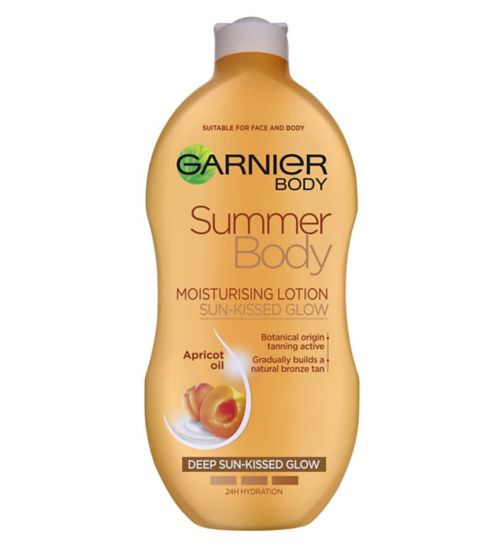 What I love about this is that it doesn't feel sticky on the skin unlike other build up tans. I put this on after I get out the shower so I am going to be getting dressed so I don't want to put on the cream and then have my pjs wipe it all off again but this is dried in and gone in about 5 minutes and you smell amazing!
Hair
My favourite hair product by Garnier is the Ultimate Blends Sleek Perfecter Oil with pure coconut oil. I have mentioned this on my blog before quite possibly in a favourites. It smells fantastic! That is my favourite favourite thing about it. I put one full pup of this into my hair. I split my hair into 2 sections and I work my way up from the ends because my hair is so fried and it makes no sense because I hardly ever use a curler or straightener on it. I use one full pump because I have long thick curly hair so it needs to be tamed. Recently I have found that I need to put it into my 3rd day hair because my hair is so freakin crazy dry.
This is kinda pricey but not so expensive. I've seen it range in boots from 8-10€ but the way I think of it is that I have had mine since Christmas and I have nearly made an impact on the bottle it is still basically full so it is going to last you a hella long time so you kinda get your moneys worth and more. It also says that it can be used as a heat protectant but I feel strange about putting oil on my hair and then using a hot tool, it just doesn't really sit right with me. You can put it in wet and dry hair but I take the wetness out of my hair and pop it in from there.
I would really recommend this oil to anybody who uses hot tools on their hair quite often. The oil really nourishes the hair and I would say 'soothes' it from damage.
Maybe a year or two ago Garnier released their Ultimate Blends shampoos and omg not one of them smells gross. ranging from vanilla to cocoa they all draw you in. I use the conditioners a lot because they leave the smell on my hair which I love. I do also enjoy the shampoos for my second shampooing in my shower. They really leave you hair feeling soft and fresh and the shampoo itself isn't very heavy so it won't weigh the hair down or anything which is perfect in my opinion for people with thin hair who need all the volume that they can get.
Another hair product that I love is The Ultimate Blends Dry Shampoo with Vanilla Milk. Yet again this product smells amazing and it is a really good dry shampoo. It doesn't feel like you have just rubbed dust into your hair it just disappears and soaks up all that oil immediately. I have used this many times and every time I put this in my hair someone says to me 'you smell so nice' and it is a little bit strange to be like 'yeah its my dry shampoo' but it really does leave you smelling fantastic throughout the day and your hair stays clean and fresh!
I think this is about 5-6€ but that is the same price as Batiste and if I'm honest I find that Batiste is a little but too powdery for me and you can kind of feel it in your hair all the time. I picked up a bottle about a month ago and I don't think I have made a dent in the bottle because I actually avoid using it.
I never tried the Repair Creams that they have because I never really use repair creams all that much so I never picked one up
In all honesty I adore Garnier as a whole and I always reach for their products. They are a brand that I am going to continue to use. Its quality is amazing their stuff smells great and their stuff really does work.
I know that obviously people know Garneir I am not trying to 'introduce' a small brand but I wanted to share because I have so many products that I love that are Garnier.
xoxo